Find the Pomsky Puppy for Sale of Your Dreams!
On this page, you will discover if we have the Pomsky puppy for sale that you've been dreaming of and the living environment of our babies.
The Life of Our Pomsky Puppies!
The Perfect Mix of Husky and Spitz
Throughout the year, you will have the opportunity to find the Pomsky puppy for sale of your dreams.
Each of our dogs and puppies is important and has a special place. Therefore, we make sure to provide them with personalized and individualized time and activities. 
All dogs need physical and cognitive activities to thrive. 
The well-being of our animals, the quality of our selection, and the journey we offer are our priorities!
We work with a waiting list on which several of our families are already registered! The average waiting time is 4 to 6 months to welcome a puppy. Of course, this timeframe may vary depending on your criteria. The goal is to take the necessary time to find the puppy of your dreams. 
We mostly work with Pomskies that resemble Huskies, with a wide range of colors: Black & White, Chocolate & White, Gray & White... 
In terms of generations, we mainly offer F3, F4, and F5 puppies. We believe that as we advance in generations, we achieve more color and character homogeneity among the puppies. Our goal is to provide you with a stable and well-adjusted puppy. 
You can find information about our current litters here: Nos Princesses & Princes chiots Pomsky | Royaume Des Galopins
Although the Pomsky is a trendy dog, the selection of puppies will not take place before the puppies reach 5 weeks of age and in the order of arrival on our waiting list. You are under no obligation to choose a puppy from a litter if none of them appeal to you. 
If we have any puppies remaining after the families make their choices, they will be indicated directly on this page.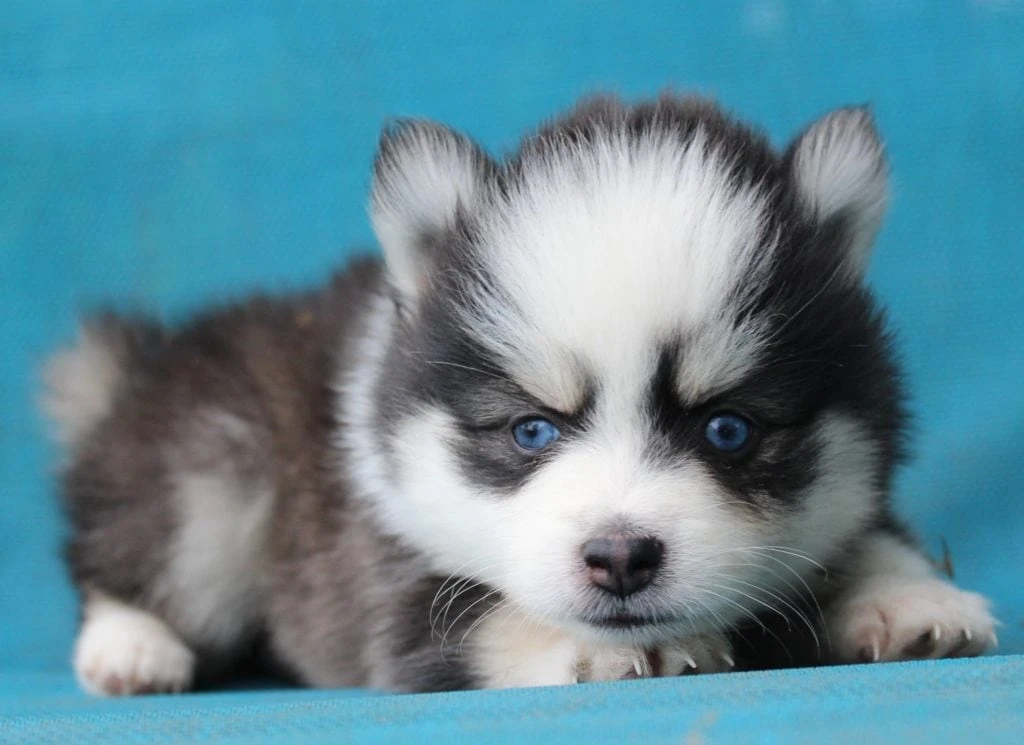 The Environment of Our Pomsky Puppies
All of our puppies are born within our home. We are present with them at every moment of their development. From the early days of life, we provide them with early neurological stimulation called the Bio Sensor Program. Five beneficial effects have been observed in dogs exposed to the stimulation exercises of the 'Bio Sensor' program. It has been demonstrated that these early stimulation exercises have numerous beneficial effects, including: 
Improved cardiovascular performance
Faster heartbeats
Better stress tolerance
Enhanced response to infectious diseases  


To learn more about the Bio Sensor Program, please visit the following link: Early neurological stimulation / Bio Sensor - ELEVAGE D AUSTRAL ET BOREAL | LOF Australian Shepherd puppies available | LOF Jack Russel puppies available | Allier and Puy de Dome | Paris region (Ile de France) (elevage-bergeraustralien-jackrussell.com)

As they grow, we incorporate different sounds and textures to provide them with optimal stimulation. 

They will also encounter other dogs, cats, and various humans, including children! The goal is to familiarize them as much as possible with a traditional family life, in order to offer you puppies who are well-adjusted and friendly. 

 They will also explore the garden, learn to walk on a leash, and begin toilet training. We are not in favor of crate training and do not use it in our breeding. 

The socialization period, which lasts from birth to three months of age, is a crucial time. You will also have a role to play, but we will be there by your side at every moment to guide you.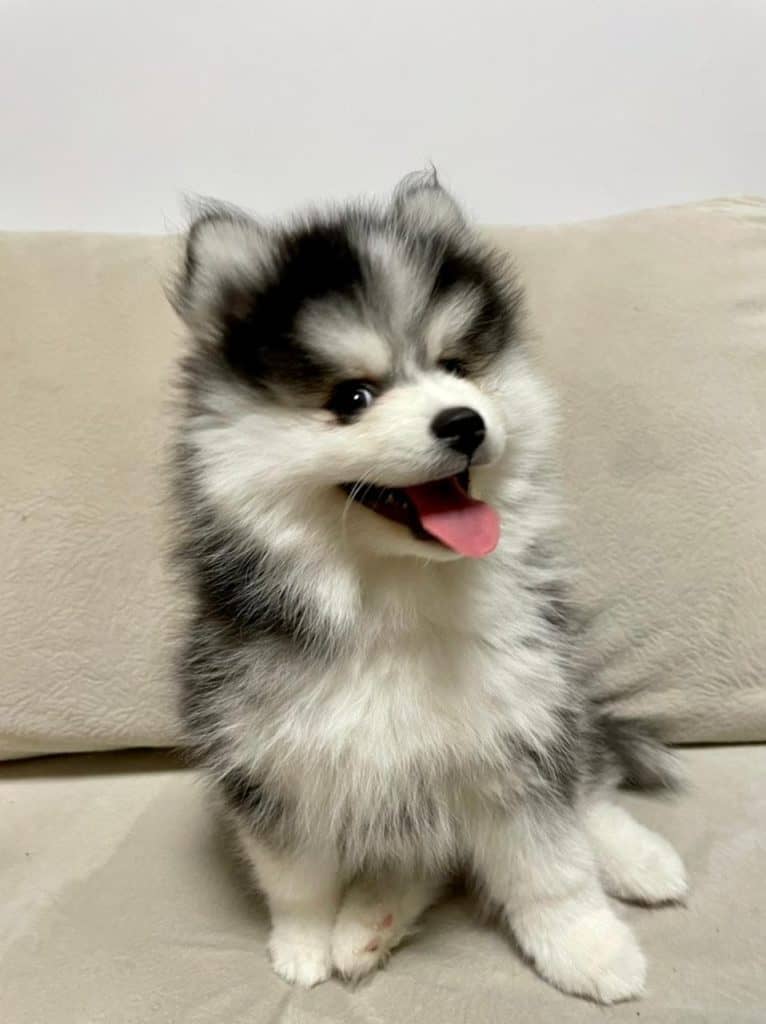 Price of a Pomsky Puppy for Sale
It is very difficult today to determine the right price for a Pomsky. By quickly looking on leboncoin, you will see that prices range from 1500 euros to over 6500 euros. 
Therefore, it is important to understand the reasons for such variation in order to determine the price you are willing to pay for a Pomsky. 
Within our Pomsky breeding, prices range from 3500 to 5000 euros for companion dogs without breeding rights, except for exceptional puppies or those intended for breeding. 

We have chosen these prices because they reflect extensive selection work, genetics, and good health. 

Generally, by choosing a dog from our breeding, you will have an advanced generation Pomsky (F3, F4, F5) with a wonderful temperament and 100% Pomsky, meaning with Husky and Spitz DNA. 

80% of our breeding stock is imported from the United States, the country where the Pomsky breed was created. 
All our dogs are Embark tested and free from genetic diseases. 
All our prospective families go through a waiting list.
This allows us to know your criteria and find your perfect match. 

Our waiting times average from 4 to 8 months, depending on your criteria. 

Throughout this period, we will exchange daily, and you will receive photos and updates. 

Our goal: to offer you a personalized journey and a puppy that matches your lifestyle and criteria!
Our Pomsky puppies from 2021!
Do you want to join the adventure and quickly find the Pomsky puppy for sale of your dreams?
Do you want to be part of the big family of Royaume Des Galopins and welcome a Pomsky puppy for sale? 
It's simple, just contact us: 
By email: Royaumedesgalopins.fr
On Facebook: Pomsky – Royaume Des Galopins | Facebook
We Organize Farm Visits All Year Round
Throughout the year, we organize farm visits so that you can meet the parents of your future babies and so that we can get to know each other!
It's a great opportunity to spend some time in a green environment and discover our Pomsky puppies for sale.